Brachioplasty in Miami/Arm Lift at Spectrum Aesthetics
It can be difficult to feel attractive when struggling with sagging skin on your upper arms. If you find yourself in this situation, an arm lift or brachioplasty may be the solution. A brachioplasty is a simple contouring procedure in which a plastic surgeon trims away excess hanging skin, removing fatty deposits. After removing the excess fat and skin, the surgeon then pulls the remaining skin taut to match your arm's natural shape. After this procedure, your arms will appear younger and fitter than ever before, complimenting the positive aspects of your figure rather than taking away from them.
Excess skin and fatty deposits usually occur in patients that have recently lost a significant amount of weight, especially if they had recently undergone a weight loss procedure. There are several options when undergoing a brachioplasty. Your surgeon may give you a standard arm lift, but a mini-arm lift is an option as well. During your initial consultation, you and your doctor will discuss the benefits of each procedure and which best fits your needs. Remember, our ultimate goal is to help you outline your body's naturally attractive features to create a better you.
While you may decide to get a simple brachioplasty alone. Many of our patients decide to undergo this procedure along with a larger treatment plan. Common surgeries to consider alongside your arm lift are thigh lifts, abdominoplasties, neck lifts, brow lifts, face lifts, and breast augmentation.
Is Brachioplasty/Arm Lift Right For You?
If you are considering undergoing a brachioplasty, there are some factors that need to be taken into consideration beforehand. We have taken the liberty of listing a few below.
The two leading factors to consider are your age and weight.
Many patients that have recently lost a significant amount of weight, either through drastic changes in diet, weight loss surgeries, or pregnancy, may find themselves troubled with excess skin along their upper arms. If you find yourself struggling with these issues, or if you find yourself becoming self-conscious about the appearance of your upper arms, then brachioplasty may be the perfect procedure for you. However, additional weight loss may cause more excess skin, so it is important to be sure that you have reached a comfortable weight prior to undergoing your brachioplasty procedure.
The older we get, the less elasticity our skin tends to have. While there is no strict age restriction to brachioplasties, men and women over the age of sixty five may be required to undergo additional tests before the procedure. This is partly due to a tendency for skin to be less elastic at that age, as well as the risks associated with anesthesia. That being said, brachioplasties present minimal risks.
If you are still unsure if you are qualified to undergo an arm lift surgery, it is best that you make a consultation with one of our qualified practitioners.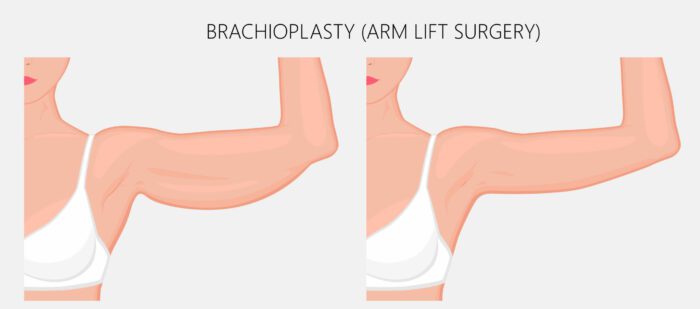 Preparing For Your Brachioplasty/Arm Lift Surgery in Miami at Spectrum Aesthetics
Before undergoing your brachioplasty at Spectrum Aesthetics in Miami, there are a few simple instructions that you need to follow:
Stop Smoking At Least 4 Weeks Before the Surgery
Stop Taking Blood Thinners 4 Weeks Before the Surgery
Do No Eat or Drink for 24 Hours Before Your Surgery
Do Not Wear Makeup, Jewelry, or Contact Lenses On the Day of Your Surgery
The procedure itself will typically take one to two hours. Depending on the nature of the procedure, time can vary and the procedure itself may change slightly. However, mini-arm lifts, arm-lifts, and extended brachioplasties all follow the same basic steps. These steps, as mentioned above, include removing excess skin and fatty deposits, touting the remaining skin, and contouring the shape of your underarms.
Planning Your Brachioplasty/Arm Lift Recovery
You will need to plan for your brachioplasty recovery ahead of time, as it does take several weeks to completely recover from the procedure. For the first two weeks, you should not work or engage in straining activities. If you have small children, we recommend planning ahead and getting assistance in caring for them. We also recommend arranging a ride home from our facility prior to the procedure.
Following the procedure, you should expect soreness and light inflammation. Medication will be prescribed to help ease any and all associated discomfort. To help reduce discomfort, it is recommended that patients elevate their arms when sleeping. Be sure to regularly change your bandages and cleanse your surgical drains. Your doctor will help provide you with detailed instructions. While arm lift surgeries are low risk procedures, there are a number of temporary side-effects to expect after your procedure. They are as follows:
Tightness of the Skin
Tingling Sensations in the Operated Areas
Numbness in the Affected Areas
Slight Discomfort
Bruising on the Operated Areas
Swollen Under Arms
Bleeding in the Affected Areas
While some of these symptoms may extend into your first few weeks of recovery, the majority of these symptoms will dissipate within the first few days.
Aftercare and Your Brachioplasty/Arm Lift  Results
Following your surgery, there will be a series of follow-up appointments with your plastic surgeon. The first will typically be one week after the procedure. During this appointment, your surgeon will remove your bandages and sutures, as well as look over the operated areas to ensure your recovery is progressing smoothly. The second appointment will typically be four weeks after your procedure. The purpose of this check-up is for your surgeon to observe the results of the procedure. This helps to ensure minimal scarring and an overall healthy recovery process.
Brachioplasties produce amazing results. These results will be immediately visible after surgery, but can be appreciated to a larger extent once recovery is complete and swelling has gone down. In general, arm lifts result in a slimmer, more toned appearance, and these results will last indefinitely when a balanced weight is maintained.
Spectrum Aesthetics operates on locals,but our clients come from around the world and from all walks of life to help achieve a better sense of self and self-confidence.Our before and after photos speak for themselves, but we still want you to leave feeling better than ever before. If you are considering arm lift surgery, feel free to contact us for a simple consultation, and we will do our best to answer any questions you may have.